#06
Penny Yon
Atiyyah Khan &
Batsirai Chigama

09 11 2021
Penny Yon is a musician and cultural worker, born in Mutare on the eastern border of Zimbabwe. Growing up in a family with a long and rich musical history, she graduated from piano as a child, to guitar and eventually to bass twenty years ago. A member of several bands, she sang and played bass with all-women group Big Sister and afrojazz group Mhepo in the 1990s. Yon went on to sing as a backing vocalist for 'Anjii' Greenland, fronted the afrojazz group Maisha for several years, and later joined the cover band Rhythm Refined in Harare. She has been active in her local community and plays for church fellowship. Since the late 1990s Yon has worked as a cultural producer, at the Zimbabwe National Jazz Festival, Pamberi Trust (Mannenberg Jazz Club and Book Café) in Harare, Nhimbe Trust (Bluez Cafe) in Bulawayo and Kunzwana Trust in Binga.

Atiyyah Khan is a journalist, arts writer, archivist, record collector and events curator based in Cape Town. Since 2007, she has documented arts and culture and has been published in newspapers across South Africa. In 2010, she was awarded the Pulitzer Fellowship earning her an MA in Arts Journalism from the University of Southern California. Khan is the co-founder of the music and art collective Future Nostalgia which hosts listening sessions and gigs around Cape Town. As DJ El Corazon, her sets explore music beyond boundaries forming connections that link South Africa to the rest of the world. She has experimented with self-publishing; her latest zine titled Bismillah references Islam and music in Africa. Currently, she is the Arts and Culture journalist for online publication, The New Frame and hosts a monthly radio show on Worldwide FM.

Batsirai Chigama is a Zimbabwean performer, poet, literary activist and social commentator. Chigama's second poetry collection For Women Trying to Breathe and Failing (It's Not Your Fault) was recently published. Her debut collection Gather The Children received a National Arts Merit Award in 2019. In the same year Chigama was an honorary fellow at the International Writing Programme at Iowa University. Her work with young people has taken her to Denmark and the USA, performing and facilitating creative writing and spoken word workshops in schools. In the past, Chigama worked with Yon at Pamberi Trust on the project Female Literary Arts & Music Enterprise FLAME at the Book Café, establishing the celebrated programme Sistaz Open Mic.


#06
Foot Tapper
Batsirai Chigama
poem

Earth understands the language of her feet,
listens carefully to echos reverberating,
pulsing, galloping across ancient plains
and she taps her feet, gently.

Under the soles of her feet, trapped
anxious melodies seek to escape.
They have journeyed together; she the dancer
and instrument, fluid and fearless.

The sage has become song herself,
teaching many how to keep their
voices alive and loud. History converges
into one big orchestra, a festival, unbridled.

Her wisdom still opens doors for strangers
A thousand voices are getting louder and alive
and there she is, tapping her feet gently
and the earth responds with humming,
a thunderous choir.



Penny Yon at the Bellstone, St.Helena. 1971. When tapped with a stone the class T - Hypsographic rock rings like a bell.







#06
Penny Yon &
Atiyyah Khan

DJ show 1' 14' 53"
Zimbabwean cultural worker and musician, Penny Yon, is the subject of this highly insightful radio show, in conversation with South African arts journalist Atiyyah Khan. Yon describes her upbringing in Mutare and the influence of growing up in a musical family. She talks about working with the music of the Tonga people along Lake Kariba, previously only documented through field recordings by Hugh Tracey in the 1950s. Yon also discusses the enslaved history of St. Helena Island - the place of her ancestors.
---
TRACKLIST
Mhepo - Pasi Chigare

Lala (Hugh Tracey - N. Rhodesia (Zambia) 1952-57 - Kalimba & Kalumbu Songs) - Bena kazembe balitumpa
Stan Getz with João Gilberto and Antônio Carlos Jobim - The Girl From Ipanema
[Backing Track - Cherry : Basil Coetzee and Lionel Pillay]
Sathima Bea Benjamin - Children of Soweto
St.Helena Slave History clip
[Backing Track - Cherry : Basil Coetzee and Lionel Pillay]
Simonga - Twende
Tonga Tribe - Ndalama Ndi Satana
Simonga - Munyama
Simonga - Simoloka
Hugh Tracey clip
Sena Tonga - Wamwira Mangarangara
Tonga - Ndalame
Mhepo - Marabastad
[Backing Track - Cherry : Basil Coetzee and Lionel Pillay]
Mhepo - Zvirwere Zvichapera
#06
on Penny Yon
Atiyyah Khan

article



The island of St. Helena lies in the South Atlantic between the coasts of Brazil and Angola. Zimbabwean-born Penny Yon, wonders why her ancestors sailed all the way around the tip of Africa, to end up where they did.

St. Helena was an important drop-off port for slave trade, due to it's location between the Americas and Africa. For the longest time, it occupied the position of one of the most remote islands on the planet. The island was previously only accessible by ship, until the building of an airport in 2017.

Yon was born in Mutare in 1961, located on the eastern part of Zimbabwe, and left when she was 16. She describes it as "a beautiful place - mountains and valleys; green things growing everywhere; fruit abounding freely in the streets... No house had a gate or fence."

George & Mary Yon with Penny, Mutare, 1961 © courtesy the Yon family
Musical growth

"What is strong in my childhood is the music, which was always there. There were bands in the family, before I was born." Yon grew up through a long lineage of musicians, who all still continue to play till today. She explains that her father George Yon could play eight instruments. He played music until he passed away.

The Yon Orchestra band was started in Beira, Mozambique. Later around 1938, the family moved to Mutare. The band established there playing the popular tunes of the day. That formed the foundation of her music knowledge. "They arrived in that community of Mutare, invited by people they had met and really loved it, because the mountains reminded my grandfather of St Helena, which is a volcanic island of just mountains and valleys." She explains that the family band was called the "Yon's Orchestra - St. Helena" because they really wanted to hold onto their identity. The band grew to be really popular in the area and later became known as Yon's Combo. Due to the divide-and-conquer Apartheid politics that were at play in Zimbabwe, the band often had to play behind a curtain when performing for white audiences, hidden from them.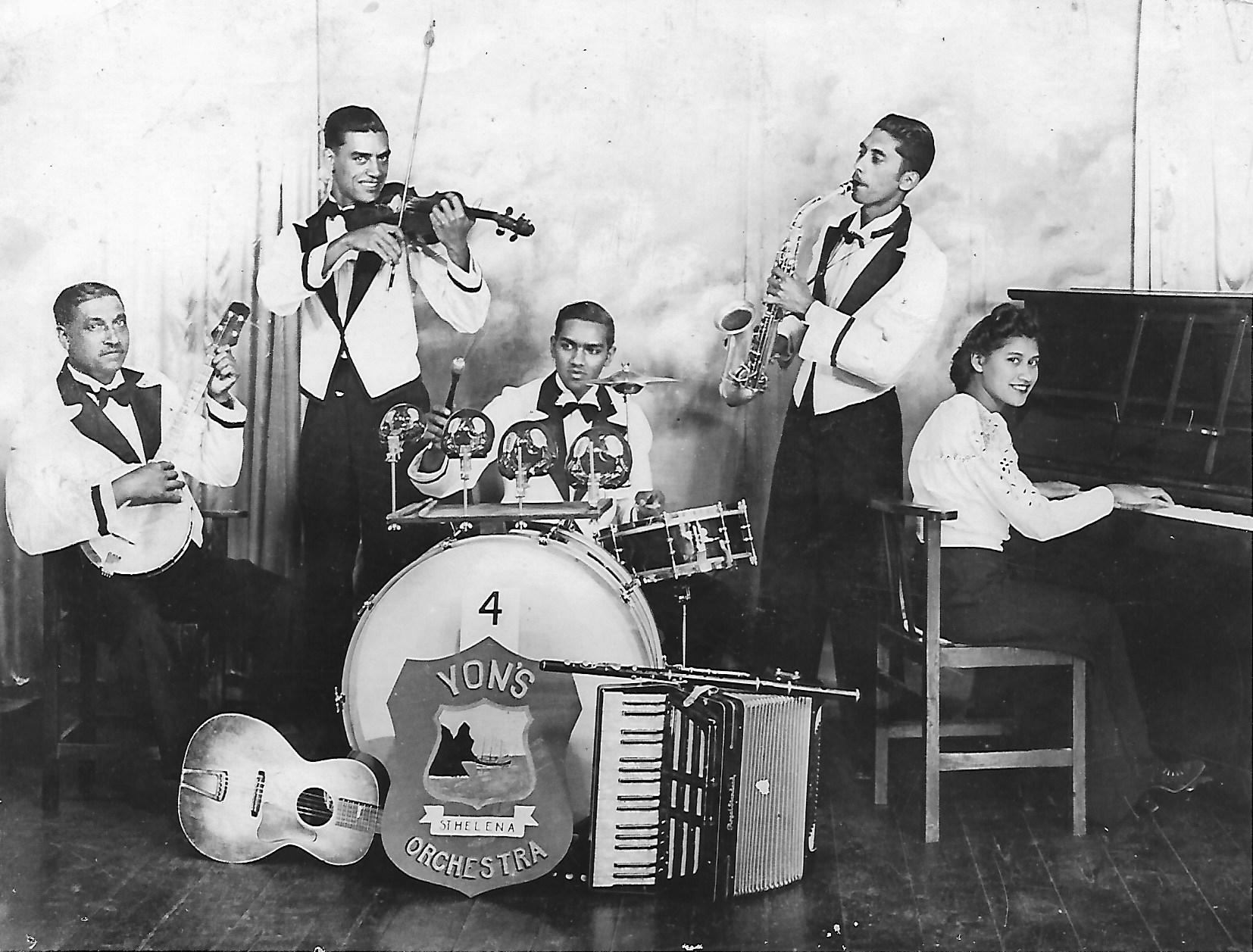 Yon's Orchestra - St. Helena (L-R) Thomas Yon on the banjo, George Yon on violin, Jock Pinto on drums, Terry Yon on sax, Mary Yon on piano performing in Mutare, 1948 © courtesy the Yon family




Yon's Orchestra - St. Helena with Sydney Lakey on guitar performing in Mutare c.1950s, a nod to the past when they played behind curtains to segregated audiences in then Rhodesia © courtesy the Yon family





"As I grew older, my dad was very into jazz, because he was a saxophone player, as well as played many other instruments," she says. She remembers Latin American jazz of the 50s and 60s as being part of her childhood. Yon was the youngest of three brothers, who were much older than her. They too, contributed to influencing her music tastes at the time in the form of introducing her to funk, Motown and rock music.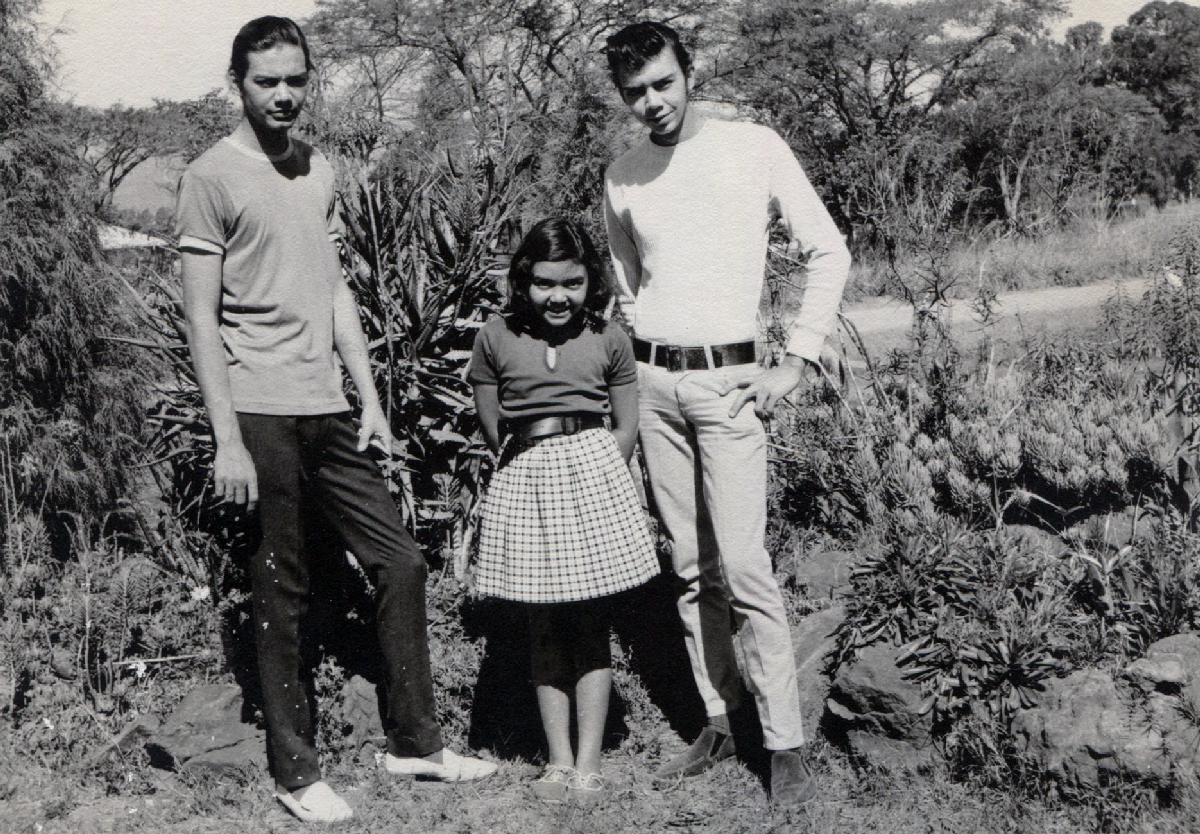 Penny with brothers Richard and David Yon, Mutare, 1970 © George Yon, courtesy the Yon family





Her father made her take up classical piano from the age of six. This was nurtured through being surrounded by music. "He made me do it, but I loved it," she says. Her father was also a violinist and sometimes she would accompany him on songs. "So it was really a mish-mash of everything, but I think it was all very rich for me," she says referring to her musical upbringing. She later took up the guitar around the age of 11 and then the bass much later in her 30s. In 1980, in the year that Zimbabwe gained independence, the Yon family moved to Harare.








Penny Yon with new guitar, Mutare, 1972. and on piano, Mutare, 1969 © George Yon, courtesy the Yon family
St.Helena Island Heritage

Yon's father and his two siblings sailed from the island of St.Helena in 1923 when they were still children, and arrived in Beira searching for new horizons. "They came with such courage. I've always thought what guts that must have taken, to come on this long ship journey around the Cape of Good Hope." Yon's mother Lydia Peters, grew up in Gweru, but her parents were also from St.Helena, who left when they were recruited as educated, cheap labourers. The St.Helenian heritage thus was important from both paternal and maternal sides.

St. Helena's diverse community is due to the wide range of people who reached the island. First discovered by the Portuguese, the island was then occupied briefly by the Dutch. They soon lost interest and devoted more time to colonising the Cape instead. The island was then occupied by the British in 1659, responsible for the transporting of slaves onto the island from the East. The island still remains a strategic outpost, under British rule and reports to the Queen.

In 2012, a mass slave grave was found, with the bodies of nearly 5000 slaves, believed to have been freed slaves - many of whom arrived in poor condition on the island. Due to its location in the Atlantic, St.Helena was part of the Middle Passage, notorious for slavers using it to transport their human cargo.
Yon remembers the first time she travelled to the Island in 1971. She recalls an image of her father and his brother Terry standing at the helm of the ship as they approached the island for the first time since children.

"As we approached the island, my dad and his brother Terry were standing at the front of the ship. And looking out waiting to see the first sign on the horizon of this rock because it literally looks like a rock. And as it got closer and closer, they would just stand there, at the rails weeping. They left as children. They never thought they would make it back. Because most people didn't," she says.

It was her 10th birthday, travelling with a family of eight. It was a five day train journey from Mutare to Cape Town, and then a five day ship voyage to the island from there. "I saw many, many things that stayed with me forever. It's a beautiful place, and we have a massive family there...The welcome was enormous and the freedom was complete."

"It's just like a paradise. I can't tell you. It's a paradise," she says. Yon has travelled to St. Helena several times.



Announcement in Umtali Post, May 1971
Penny Yon on board "The Good Hope Castle" sailing from Cape Town to St.Helena in the South Atlantic, 1971 © George Yon, courtesy the Yon family
Valley Tonga

Yon's extraordinary life trajectory has led her to work with the highly marginalised Tonga people of northern Zimbabwe, who are the third largest ethnic group of the country. They are spread all along the northern area of Zimbabwe, from Victoria Falls all the way down to Mozambique. Historically they were traders, who traded with the Portuguese and others who moved through the river.

In 1997, Yon was invited to the Binga region to work with them. The Tonga are a community who lived for centuries on the banks of the Zambezi Valley. They lived right on the water and grew crops there.

In 1957, the community and their families were forcibly removed and divided by the building of the Kariba Dam - built for hydroelectric power- which separates Zimbabwe from Southern Zambia. Land was lost, as well as ancient burial sites. Many of those places still don't have power, even though the Tonga were displaced for this very reason.

"Because of their isolation, their music culture was very rich and strong and authentic. And so different to everybody else that it couldn't help but be authentic. And that's why I got involved in promoting that music culture," she says.

The partnership was with Kunzwana Trust. When she first heard the music of the Tonga she says, "It was unbelievable. I couldn't figure it out. When I went to Binga, I encountered the music for the first time, it was the most amazing thing." It has been likened by some to free improvised jazz. Soon, she became a publicist for the Nyami Nyami Festival in celebration of the Valley and the Tonga culture.

Describing her meeting with the Tonga she says, "They were so welcoming. First of all, they were so surprised that anybody was interested in them. It was very sad. They were so surprised that we wanted to hear their music."

Nyele players of Simonga, ngoma buntibe group at Siachilaba, Binga 2001 © Austria-Zimbabwe Friendship Association AZFA
The Tonga are unique for having music bands of up to a hundred people, where each person plays one note. The music constitution is normally drums and horns, with vocals. They also have dancers and singers. "At first, it just seems like a cacophony of sound - as if everyone's just doing what they want and it makes no sense at all. But it isn't. It's an arrangement. It's a written piece composed by somebody in that way," she says. Mostly, ngoma buntibe music for the Tonga was performed for funerals, or warnings, and often entertainment.

Yon was also part of the project organised to record the album "Tonga" by the music group Simonga - one of few recordings of the people there, aside from Hugh Tracey's capturing of sound from the region in 1957, just before the Dam was built. Yon worked with the Tonga until 2005.


With Chiefs during the opening of ITC Centres, Siyansyundu, Binga, 2000 © AZFA
Moving ahead

Up until last year, Yon was performing music professionally - in a band called Rhythm Refined with members much younger than her. "They called me Aunty," she laughs. Previously she was part of bands Big Sister, Mhepo and Maisha, and worked with the Zimbabwe Jazz Festival. Although playing music at home is something she regularly does, as well as performing for community events. She is also currently working with Nhimbe Trust that works with jazz musicians in Bulawayo.

Yon recently acquired her St.Helena island status and declares she is a "Saint" which allows her to live and work on the island. She recounts the warm welcome she received on her last visit there, where she truly felt like being at home.. "For the first time in my life, I felt like I belonged... I'm an African, but when I got there I finally felt like I belonged."

Yon says it is her dream to retire on the beautiful island someday.
Mhepo (L-R) Penny Yon, Richie Lopez, Biddy Partridge, Rami Kambarami, Vaughn Fransch, Nigel Samuels, Harare c.1990s © Biddy Partridge






Backstage with Big Sister (L-R) Kundisai Mtero, Penny Yon, Ava Rogers, Biddy Partridge, Harare c.1990s © Biddy Partridge